RE/MAX - Quest For Excellence
Posted by Thomas Bagogloo on Wednesday, February 8, 2023 at 9:54:16 AM
By Thomas Bagogloo / February 8, 2023
Comment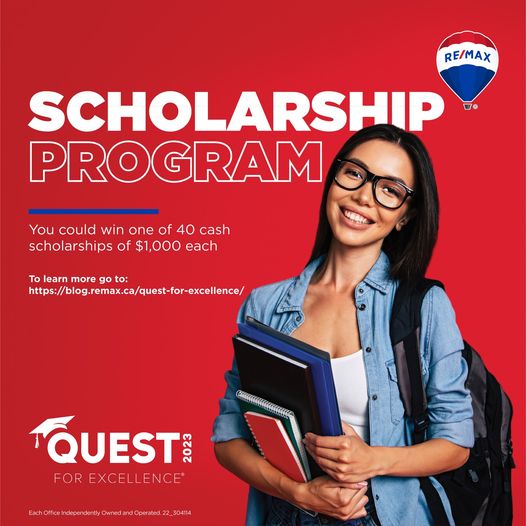 ---
The Quest for Excellence scholarship program is a cash scholarship that recognizes students for their ongoing community contributions and pursuit of leadership. RE/MAX Canada will award 40 scholarships of $1,000 each to students across Canada (except for Quebec).
---
Participants must be Grade 12 students attending high school in the 2022/2023 academic year who have not previously participated in graduation commencement ceremonies in the past.
---
Eligible students are invited to write
and submit an online essay* up to 1,250 words in length, answering one of the following questions:
---
What does a "bright future" look like for you?
How have you demonstrated leadership or charity within your community to make it a better place?
How can we ensure fair and affordable housing for all Canadians?
---
REMINDER: Deadline: March 13, 2023