14 ways to beautifully transform your home for fall
Posted by Thomas Bagogloo on Monday, September 18, 2023 at 4:45 PM
By Thomas Bagogloo / September 18, 2023
Comment
Get Your Home Ready For Cozy Season With Our Favorite Fall Decorating Ideas
Whether you're looking for some stylish new fall table decor, or are wanting to uplift your front door with stand-out fall wreath ideas, fall decorating is all about creating an inviting retreat for you and your family.
1. CREATE A WARMING AND INVITING GLOW WITH CANDLES
Decorating with the best candles can not only help to make a room feel more warm, inviting and cozy – as well as smell great, they are a wonderfully versatile decorating tool, and can help to add character and style to almost any room in the home.
Whether you give your home a
signature scent
and use candles to
make your house smell like fall
, or decorate with pretty candles and candleholders in stylish shapes and in a palette of pretty fall colors – think deep reds and beautiful burnt oranges – never underestimate the decorating versatility of candles.
We love this Cire Trudon candle from Net-a-Porter, and think the style would fit in perfectly with a fall decor.
2. UPLIFT YOUR HOME WITH FALL FOLIAGE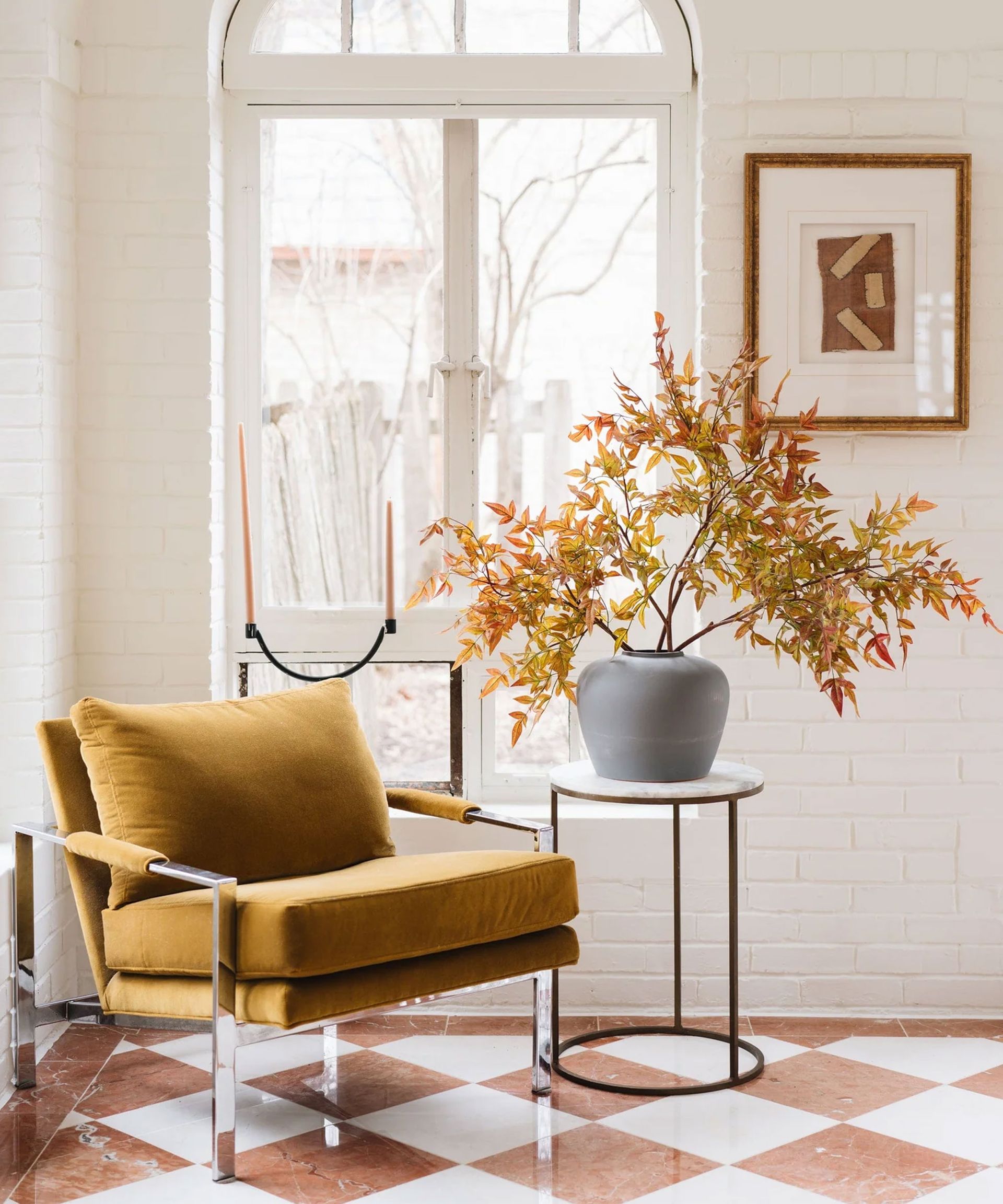 Nothing quite embodies the changing of the seasons like the changes found amongst nature; from the colors of the leaves on the trees to bright summer blooms being replaced by rich fall foliage.
Bringing the beauty of the outdoors indoors with the
best winter houseplants
and fall flowers and foliage can be a quick and easy way to switch up the look of a room and help make it feel more fall-like.
Interior designer, Tess Twiehaus from Tess Interiors states, 'my favorite thing about fall is watching the leaves change. Bring those rich shades of gold and auburn indoors by gathering branches from your very own neighborhood and putting them on display. Bonus points for a branch that's extra large and brings a sculptural element to your decor.'
In this cozy corner, the Artificial Nandina Leaf Branch from Aflora makes for an eye-catching design feature in the space; uplifting the area with wonderful natural texture and color – and the branches perfectly complement this room's color scheme.
Whether you opt for fresh fall cuttings, or prefer more enduring artificial blooms, decorating with plants and flowers will always add a stylish finishing touch to a room – as well as enhance our connection to the beauty of the outside world.
3. CONSIDER YOUR FALL CURB APPEAL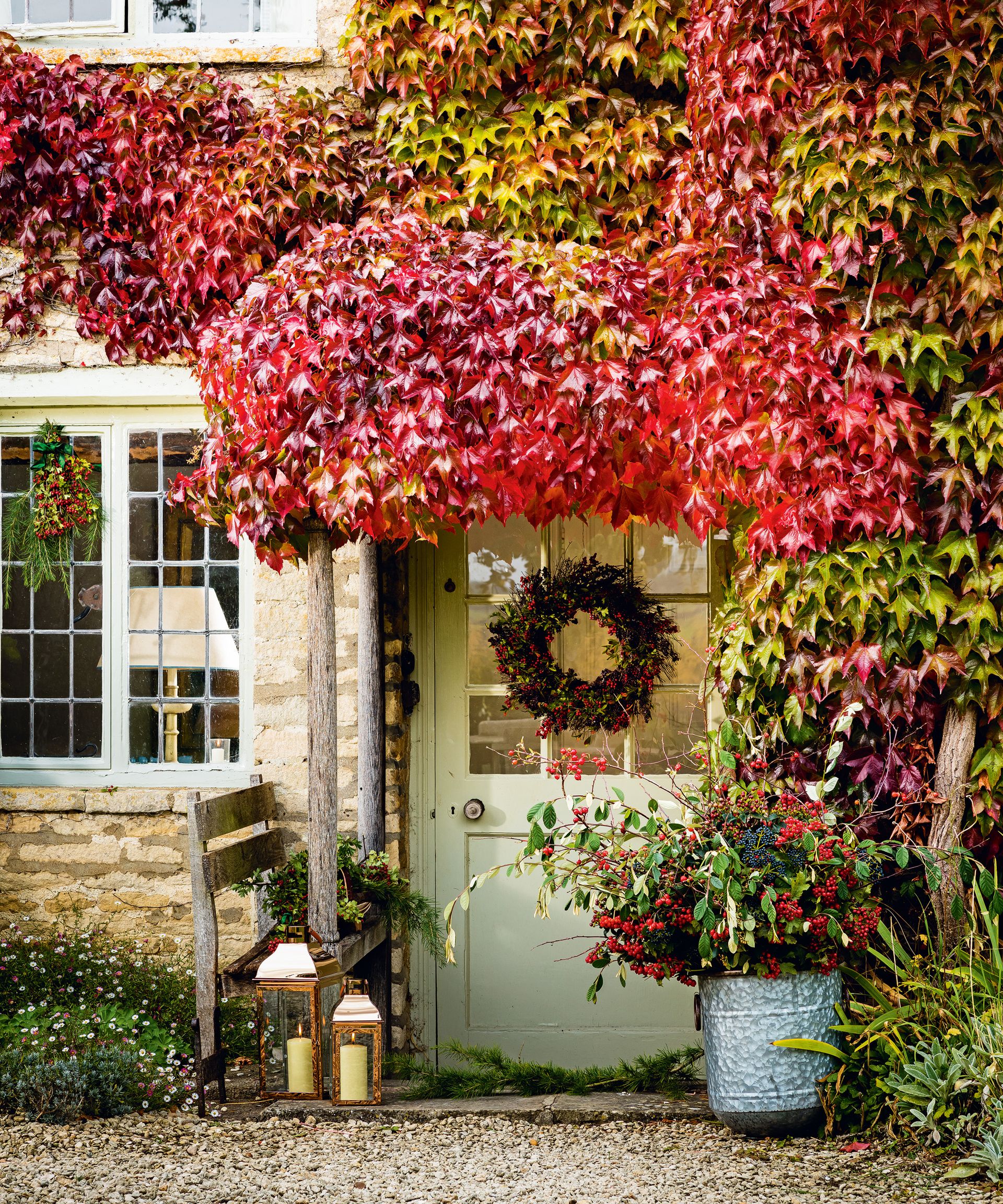 Your fall wreath ideas need to be given pride of place, which is why they are simply the best for fall front door decor, though we love to see them used above the mantel in a living space or as a table centerpiece in a dining room or kitchen.
Fall color schemes obviously favor natural shades you would see in nature, so why not create cohesion between your fall porch decor and your yard by making a fall wreath from foliage picked from the yard?
For an eye-catching front door wreath, group the same type of foliage together to create clear sections. Mix dried foliage, grasses or flowers, with sections of fresh greenery like eucalyptus and fresh herbs such as thyme, sage or rosemary.
Restrict your colors to red, brown and faded greens for a true fall feel, but if bright hues are more to your taste, dried foliage comes in a whole host of bright shades which are perfect for a color-filled version.
4. WARM UP YOUR LIVING ROOM FOR FALL
Fall decor doesn't need to be a seasonal touch: you can use favorite fall paint colors to warm up cool rooms quickly and easily. Terracotta decor and brown living room ideas are wonderful for fall. This season sees a return to simple, restrained palettes – and being close to nature has moved from greens of the forest to a soft, neutral palette of fossil tones, raw materials and natural elements, such as stone, textures of cotton and linen with soft earthy browns, warm terracotta and clay putty tones as a contrast.
The nuances of brown and terracotta are often underplayed but one look at this living room fall decor shows how complex and interesting the often overlooked shades can be. Deeper than ochre and earthier than gold, this rich yet understated tone strikes a refined note in the living room.
5. INDULGE IN FALL CRAFTS
There's no better time than when the weather is cooler and wetter to indulge in fall craft ideas. While halloween decor ideas will take precedence, with pumpkin carving ideas easily the most popular way to decorate, we love no-carve pumpkin ideas, too, which will allow you to display your pumpkin for the holiday then, just before it starts to soften, repurpose it for the pot.
Picked from the vegetable patch or found in farm shops aplenty, pumpkins, gourds and squashes are a great starting point for creating a seasonal display in the entryway and beyond.
Often associated with Thanksgiving decorating and Halloween celebrations, the humble pumpkin is not just a kitchen staple at this time of year, it is also ideal to display in the home, especially on entrance. Pile them up on a console, sideboard or lone chair for an authentic fall welcome.
6. MAX OUT FALL TABLE DECOR FOR AN OCCASION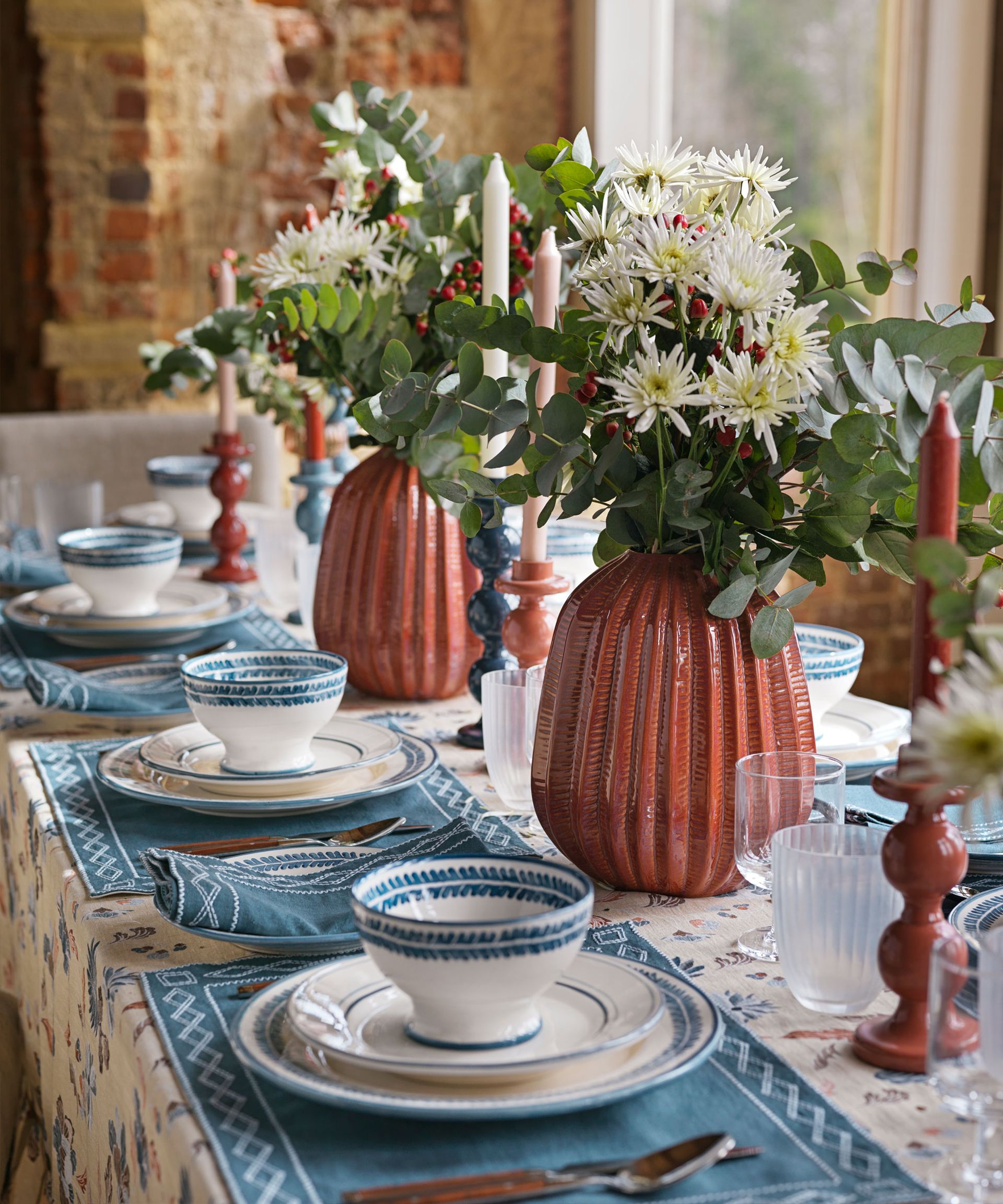 A celebration at this time of year is the perfect excuse to indulge in fall table decor ideas.
'I love to use colors that really represent nature at this time of year – terracotta to represent the best trees for fall color and bright blue to represent the crisp, sunny morning sky we often have. It's a fabulous contrast,' says Lucy Searle, Editor in Chief, Homes & Gardens. 'This table setting by designer Birdie Fortescue is a perfect example.'
7. WARM UP HARD FLOORS WITH COZY RUGS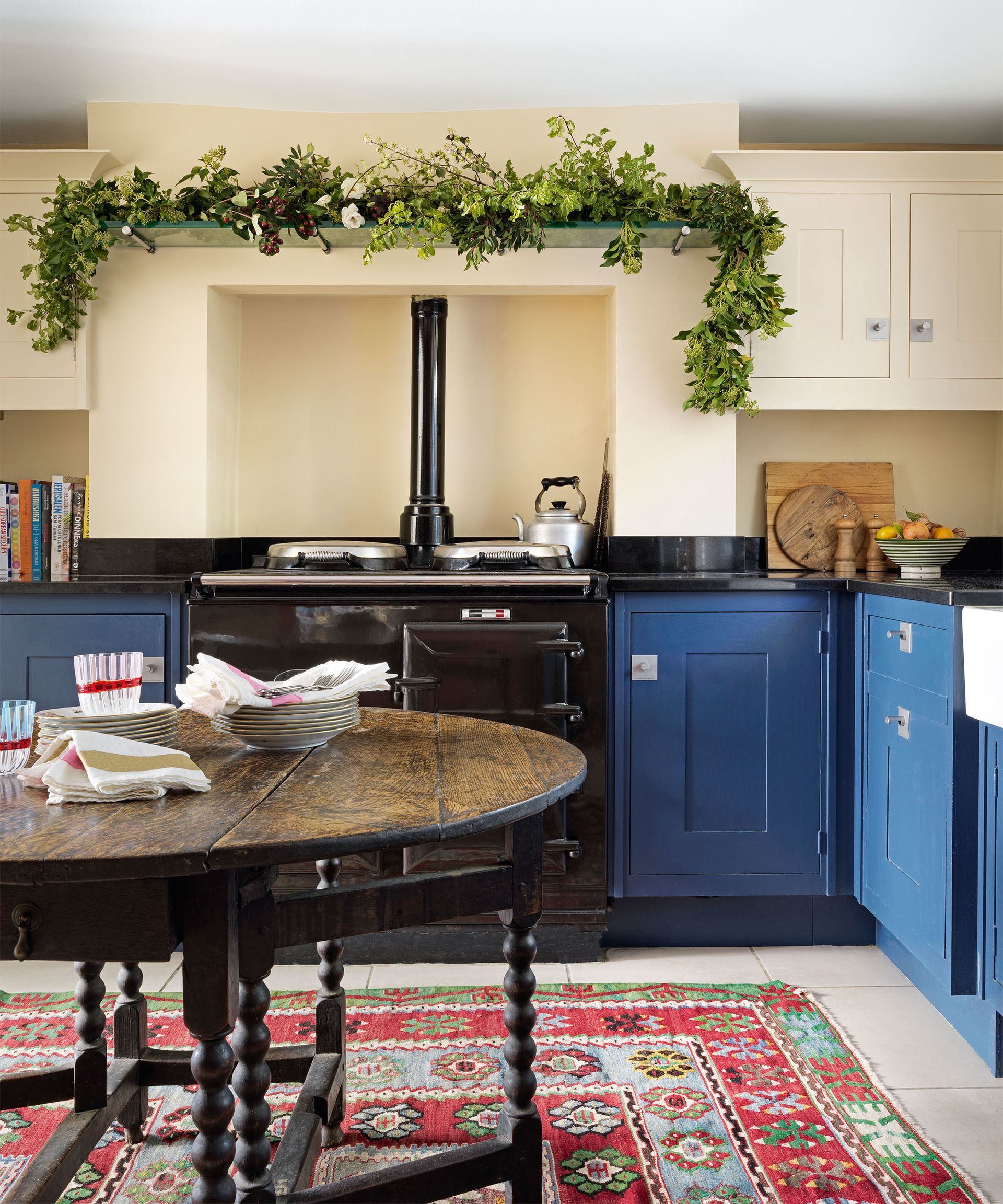 If you can only add one item to your fall decor ideas, an area room rug is an excellent choice.
One of the easiest ways to add color, warmth and texture to your room this fall is to introduce a versatile – and easily changeable – rug. More flexible than a carpet or other form of fixed floorcovering, rugs and runners offer a fantastic way to soften a hard stone, tiled or timber floor, and can also be layered onto soft floors to provide extra interest or to define zones.
And, when it comes to style, it can add a whole layer of personality to any room, even in the kitchen.
'Think of your kitchen rug as a piece of art for your floor,' says Linny Moss, creative director of Knots Rugs. 'More people are being adventurous with their rug choices and seeing them as investment pieces that will match beautifully with your existing interiors.'
8. DRESS YOUR THANKSGIVING TABLE TO PERFECTION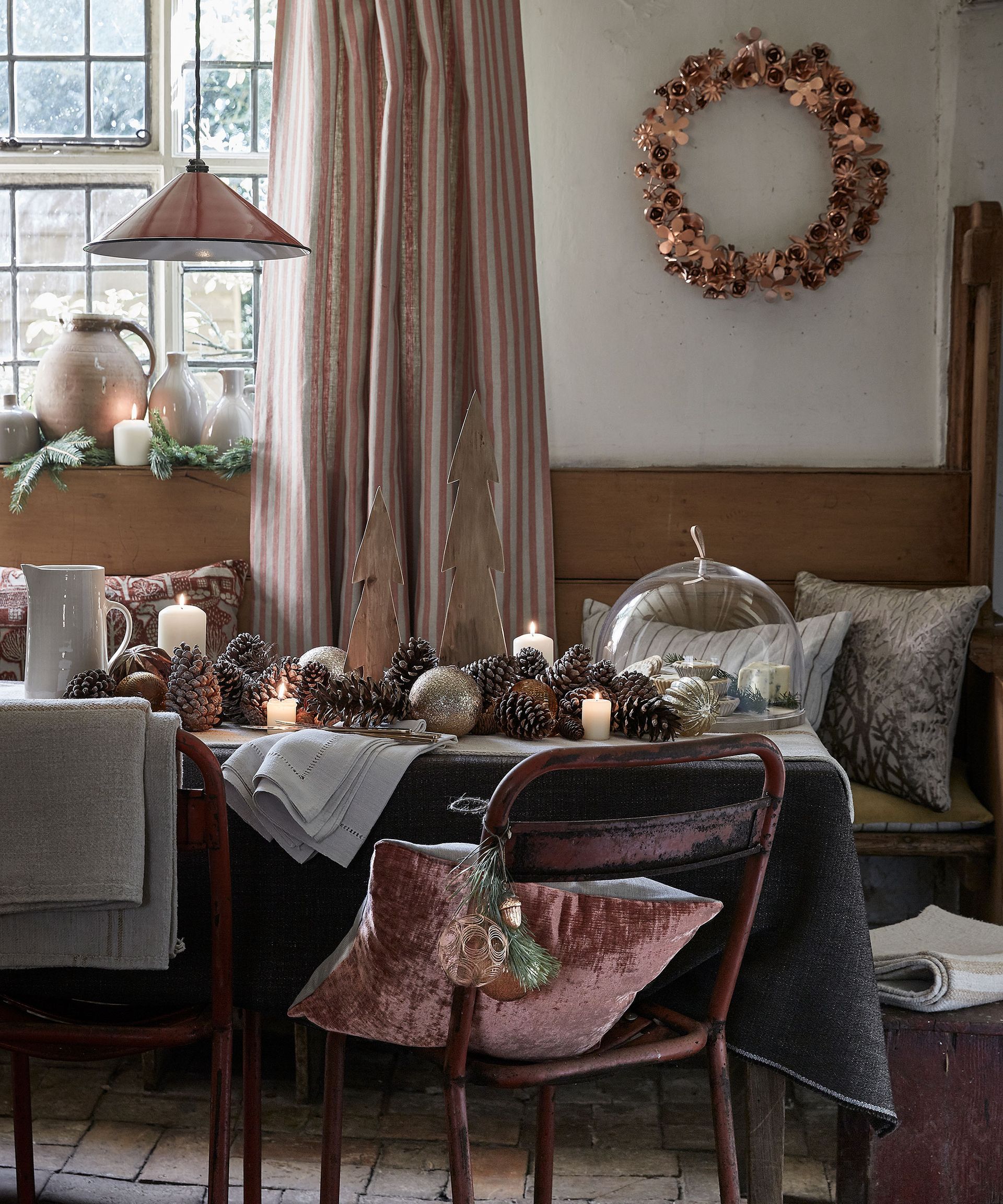 Fall decor stretch right up to and beyond Thanksgiving, when we start to think about Christmas instead. If you're hosting the Thanksgiving feast this year, you likely have a lot on your to-do list, and between carving the turkey and baking the pumpkin (or pecan) pie, setting the table should be high on your priority list.
If you are a traditionalist at heart, choose a selection of simple yet timeless Thanksgiving table decorations that you can use every year. A selection of glassware, foliage and candles should be enough to satisfy most of us.
However, Thanksgiving often calls for plenty of seasonal color – think burnt orange, mustard yellows and a warming taupe palette. If you really want to stay true to tradition, a pinecone fall table centerpiece is a must – and why not throw in a gourd or two.
9. DECORATE A FALL MANTEL TO IMPRESS
While we're big fan of fall trends, the very best fall decor ideas are inspired by nature. Look to the best plants for fall color and fall flowers for ideas for your fall mantel ideas and wreaths, but don't be afraid to choose dried arrangements that can be carefully packed away after the season and reused or even repurposed with the addition of fresh flowers.
'How do I prepare my home for fall?' asks Rachel Crow, Homes & Gardens' gardens editor. 'I always look into my yard and see what I can bring indoors to decorate mantels, tables, vases and wreaths. And obviously, as a garden enthusiast, I ensure my fall planter ideas indoors and out are fabulous.'
10. GATHER AROUND AN OUTDOOR FIRE PIT
Let the good times roll with outdoor fireplace ideas and backyard fire pit ideas that will keep everyone cozy outside even when the temperature drops.
Setting up an enclosed seating area around a fire pit, log-burning brazier or chiminea is a tried-and-tested way of adding the cozy factor to your fall decor this fall. As well as warmth, the fire will add extra light and can be used for seasonal treats, such as toasting marshmallows or warming mulled wine.
It might seem rather ambitious, but with the heat of an outdoor fire pit, you can start to enjoy your backyard all year round.
11. HIBERNATE AT HOME IN A COZY LIVING SPACE
Cozy living room ideas are pretty much top of most people's lists at the moment – for obvious reasons, when you consider that the most used space in a home is the living space. Fall decor ideas should be functional and, above all, comfortable – particularly if all you crave is a soothing space to unwind in at the end of a busy day.
'Flexibility is key – eclectic furniture and notable accessories not only make your home more welcoming, they're a great way to express your personality,' says Sam Baldry, head of design at Swoon.
'We're seeing a lot more terracotta, clay and rust colors coming through this fall,' explains Charlie Marshall, founder of Loaf. ' These tones are ideally suited to a country setting, and can be softened with neutral off-white living room paint ideas as a backdrop.'
12. WARM UP WITH HOT SHADES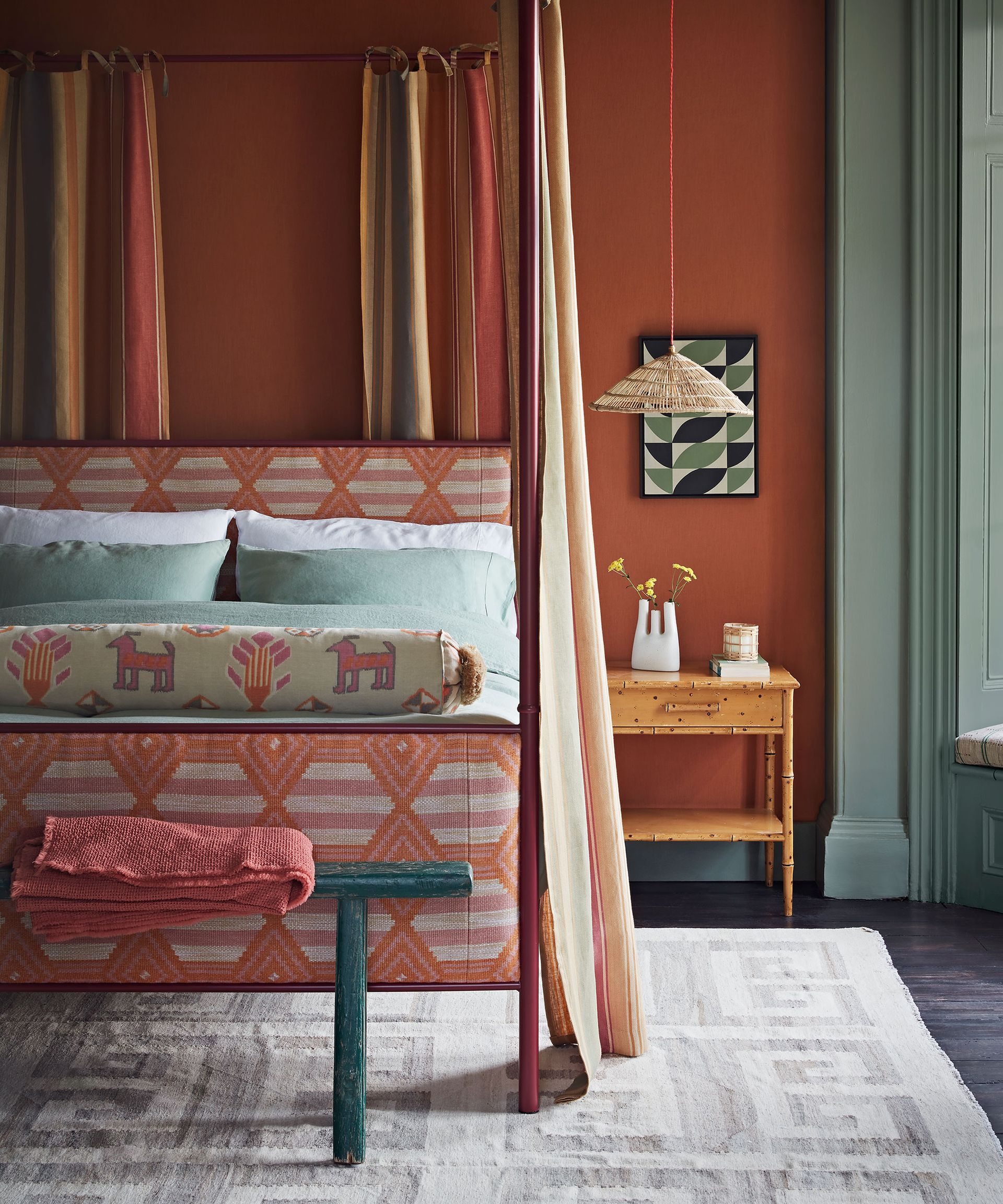 In a cool bedroom – or one that you want to feel warm and welcoming – red is a great choice.
'Red has become enduringly popular lately – and is a very stimulating shade. In this palette, it also represents the moment during exercising when you are at the top of your game,' according to trend forecasters, TrendBook.
'This bedroom color idea was inspired by the already evident success of orange. It is the extroverted color for the fall season, and when paired with green – the color of tranquility – it represents the full cycle of the season.'
Fall bedding trends needn't be overwhelmingly themed, either: 'A cooler accent shade is important in a bedroom,' says Jo Bailey, Homes & Gardens' resident style expert. 'I like pale blue or crisp white. Both are relaxing and calming, and allow the room to "breathe".'
13. INTRODUCE A SEPIA-TONED GALLERY WALL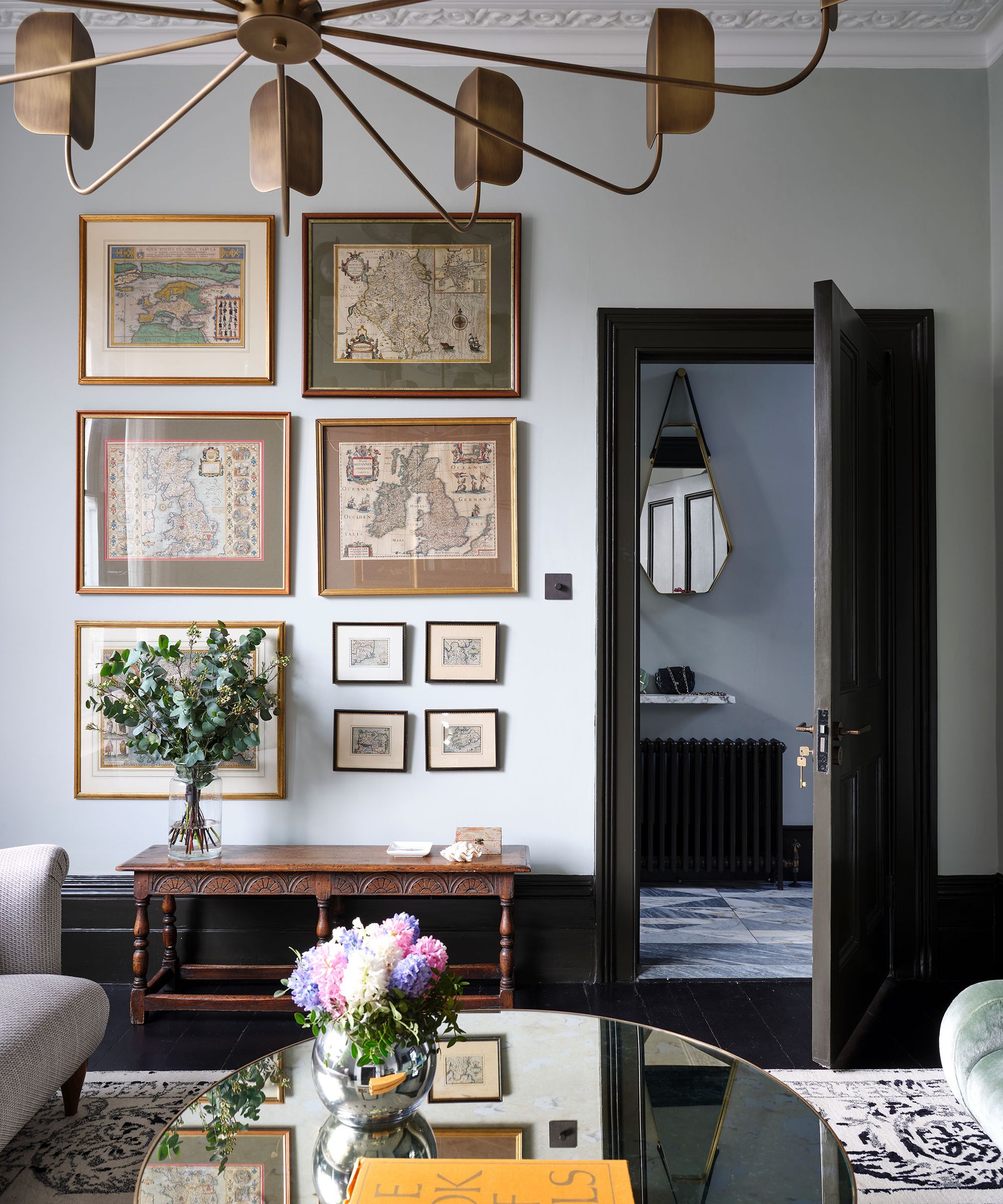 An eclectic, reddish-brown gallery wall with mismatched frames and art is the perfect recipe for fall. This gentle fall color scheme will add a sophisticated elegance and a refinement to any room in your home, and is a go-to for anyone who wants an easy-to-live with tone that will go with almost any other color, even beyond fall and winter.
'Sepia tones are a decorating staple – and can be combined in both classical and contemporary decoration with ease and elegance,' says Ruth Mottershead, creative director at Little Greene.
14. INTRODUCE YEAR-ROUND INTEREST WITH ORNAMENTAL GRASSES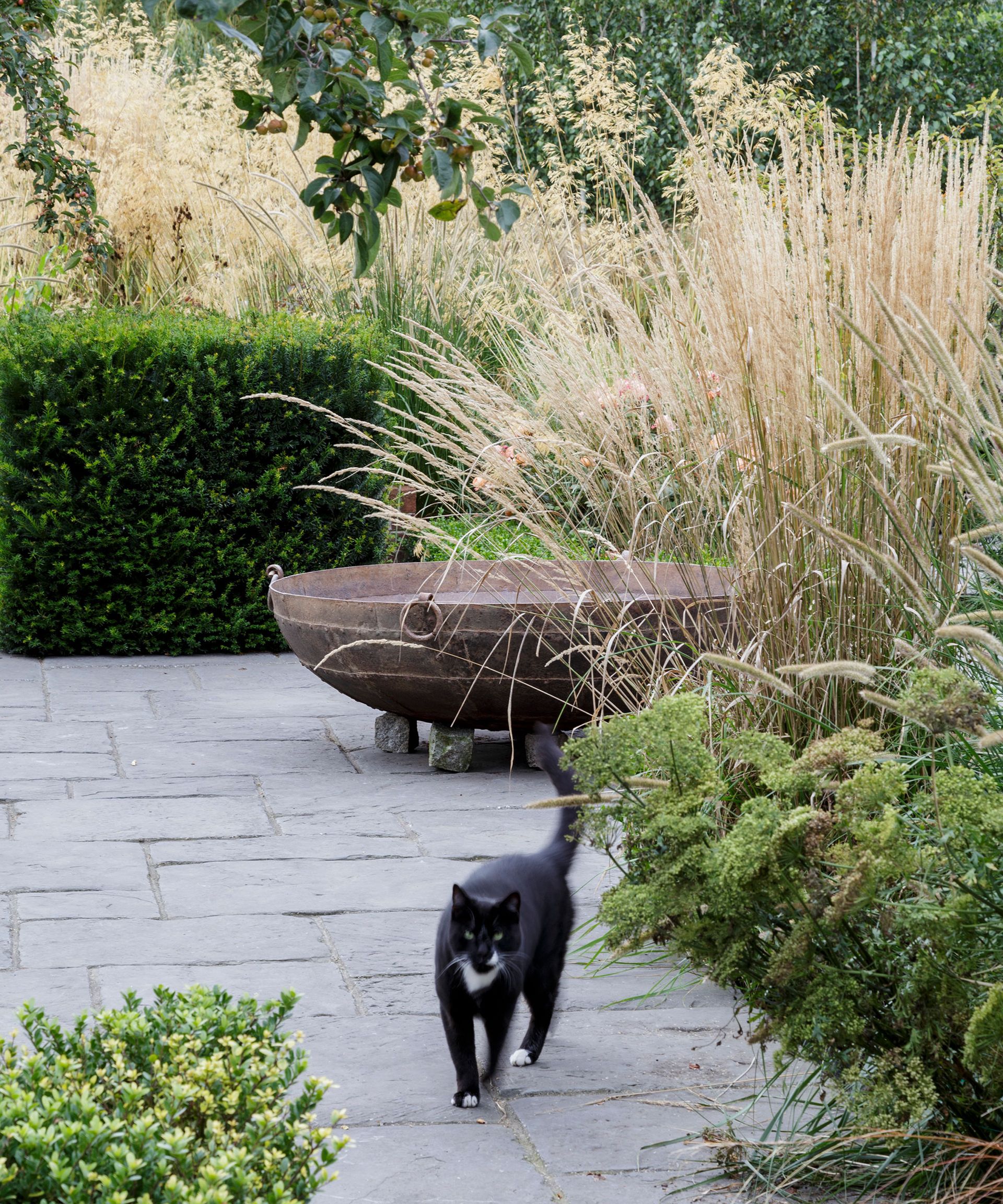 Ornamental grasses bring movement and sound to the fall garden, and carry color and interest through to fall and winter. They are the ideal solution to early-fall doldrums: as summer flowers fade, their subtly colored foliage and sprays of tiny flowers will take center stage if you are planning a winter garden.
Ornamental grasses are surprisingly easy to grow, no matter the condition of your garden – or the time of year. What's more, evergreen varieties give year-round cover and little room for the unwanted plant invaders to squeeze through. Plus they have see-through, wispy growth that take on a magical quality when gilded with spider's webs and frost.
Source https://www.halifaxmetrohomes.com/blog/14-ways-to-beautifully-transform-your-home-for-fall/